got to be
REAL
Everything has been abit of a mess latley & my friend Elle [hello Elle :)] suggested that a good way to vent it all out is to
write
it all out.
And what a genius idea it was to use blogger as a cushion for that vent. Now this isn't a sympathy vote at all, people tend to laugh at my misfortunes! [nobody reads this blog anyway, so it doesn't really matter]
Here we go...
Soooo, February has been an absolute horror of a month. I couldn't imagine it to have turned so sour after the start of 2011 had been absolutely fabulous. There's been a whole load of stuff going wrong alate but the two biggies had to be my Nana having a major stroke & facing the prospect of everything changing after getting dumped on valentines day by someone I
adored.
BEAUTIFUL. February was so cliche too, busses drove passed me and splashed puddles into me, my umbrella had a hole in it and soaked my hair, which meant my red hair dye leaked and dripped onto my cream coat. I was a quarter of a millimeter off from smashing my parents car into a bollard on a driving lesson and lastly to round off that horrific second week of February, An elderly gentlemen's colostomy bag leaked onto the floor where I work, and who had to clean up the mess?.... Let's not go there.
So after slipping on a public footpath and bruising my knee I hit the bar....of chocolate and so wonderfully managed to put half a stone a on! NIGHTMARE.
And so.....
Here I am now the second day into March and things haven't really changed, I'm still dumped, my coat is still ruined, I still have a big bruise, my Nana is still seriously ill and my parents have buggered off on holiday and i'm currently cat sitting whilst listening to Adele, of all people to make me feel better!!!!
retail therapy was in order this afternoon
My best friend decided she'd had enough of me slogging around all miserable and feeling sorry for myself. She told me we were going shopping, so how could I really say no! We had a gorgeous dinner at a little cafe in House Of Fraser with dinner and a cheeky glass of wine for £6.95! Splendid. It was really nice to take my mind off some of the problems for a few hours and just spend some well earned colostomy bag cleaning money!!!!
And here are just a few of the lovely things I managed to pick up.
First stop was a vintage shop called 'Best Vintage' that Amy wanted to check out, I've never bought anything vintage before but I was pleasantly surprised by this little find.
Peacock clasp, leather belt £12
I absolutely love this, it's so different and I absolutely love peacocks, I think it's supposed to be a waistbelt but it's waaaay too big for me to go around my waist and sit nicely so I just wear it on my hips with leggings and a long top,
like this
Agreeably, it's not to everyones taste, but it wa sa vintage find and it's rather unique. Not only will it sit with anything it's so sparkly! All of the peacock is covered in gold gems! BLING!!!!!
Ever since my mum introduced me to
Lush
a long, long time ago I have always loved popping in the shop and poking my fingers into the shower jellies and smelling the gorgeous aroma of the bath ballistics. I am genuinely a hardcore Lush fan! And the staff in the shop near me are crackers!! Must be all the fumes from the products haha! Anyway, I picked up a bath ballistic and some shower gel that I was soooo glad had been brought out, shame it was limited addition for bloody valentines day though!
'Sex bomb' Bath ballistic, £2.99 & 'It's raining men' shower gel, £4.25 for 100g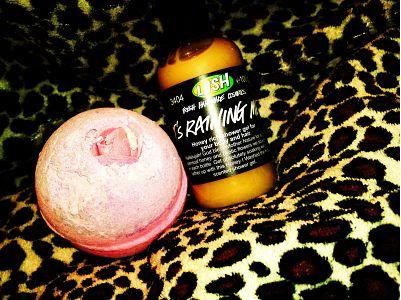 This bath ballistic is the only one I haven't tried yet, I always tend to stick to Twilight because that's my all time favourite, but this one smells gorgeous it's a really strong jasmine scent, very sensual, defiantly lives up to it's name....not like i'll be needing it though ha ha! The little rose at the top is so cute too!
For valentines day Lush brought out 'It's raining men' however, it smells EXACTLY the same as 'Honey I washed the kids' and unlike the former I used it this morning and found it really moisturising! YAY! I still can't get over the honey/toffee/fudge smell mmmm! It was so funny the lady in the shop told me she loved it so much she washes her dog with it to make it smell like honey!....Hmmmm! It also leaves not only your skin all honey-fied but your hair too if you rinse some through! YUM! That Honey-filled shower defiantly cheered me up!
Then I paid a visit to a little shop I absolutely LOVE for floaty, girly blouses and jewelry! It's called 'M Butterfly'...but I was really sad to find out, it was closing down that day! EEK!!! Still I scoured the sale rails for this gorgeous midnight blue dress! Complete with yes, you guessed it
PEACOCK DETAILS!
It was £12.00 and although I haven't yet worn it out, when I tried it on it was love!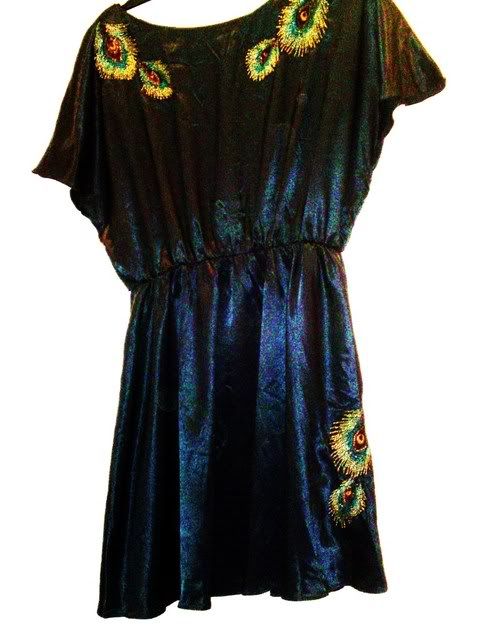 The colours within the peacock feathers are absolutely beautiful!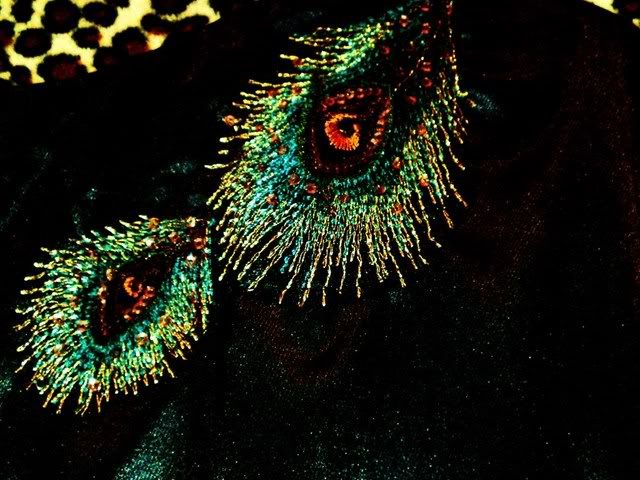 I can't wait to wear this with a little black blazer and probably a waistbelt to pull it in at the waist to give a less floaty, more fitted look. I'll probably wear this with black opaque tights too.
Finally.....
In my week of horrors, I ran out of 'quality' foundation. I always have an everyday cheaper, drug store branded foundation and a what I call 'quality' one, that this month was MAC's 'Studio Fix Fluid' in NC25....It ran out. :( Because i'd been using it daily as my cheapy one had been used up too. I desperately wanted some more 'Studio fix fluid' but I didn't have enough cash on me! OUCH! So I took myself to Superdrug to find another Cheapy. After standing at the stalls for about twenty minutes I had a miraculous brainwave. The foundation I had heard so many good things about through friends and reading other blogs was 'Bourjois, healthy mix foundation' I'd heard it left peoples skin with a dewy glowing finish, and that the coverage wasn't bad either.It was quite pricey at £10, but still, I needed one and was willing to give this a go as I love a glowy finish on my face.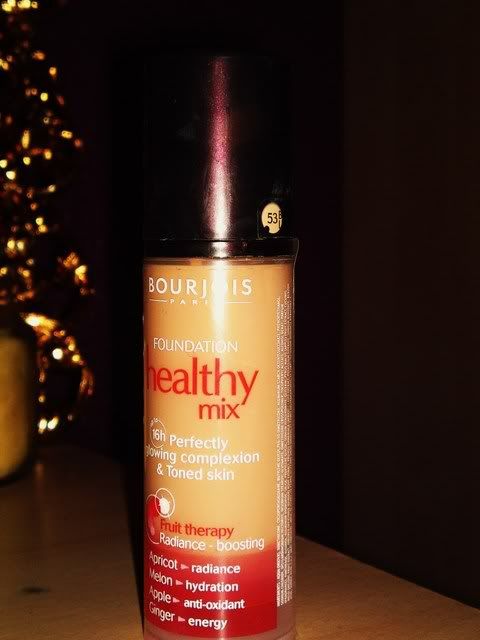 I opted for number 53 'light beige' because i'm usually an avid fake tan wearer and I need a darker foundation to compensate for that. This shade sat on my cheek perfectly with my 'tanned' neck. It says it lasts for 16 hours too, which i'm yet to find out, but i'm excited to try!
So this blog has now been touched into action, it's quite funny I started it, then I ditched it when everything was going well and then here I am back here drowning my sorrows. Definatley not being a 'part timer' anymore though! Like Elle said, im going to vent it all out! :)