PURPLE
haze...

Hello! So I was looking at my rather neglected nails this morning and I came to the conclusion that they were in DESPERATE need of a re vamp! So after scouring Superdrug in a quick two minute dash after work, I found the PERFECT colour.
I had absolutley no idea that Superdrug stocked the 'Accessorize' line, so after a scan of the stand I knew immediately I had to purchase this little jewel!
It's called 'Purple Passion' in the shade 34 and what made me even more smiley was the fact it was a steal at £4.99! It's a real royal purple to describe it best, it carries indigo, blue & pink reflects. The perfect shimmery colour, ideal for a night out or to simply add some extra sparkle to a casual day outfit.
AND, what an ideal way to kick off my blog, with a nail paint that matches it!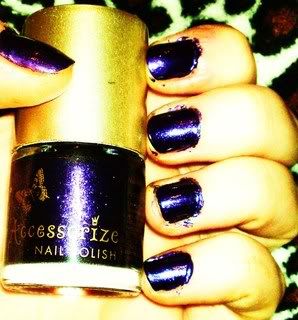 And here it is applied on my nails (this was pre clean up & I was in abit of a rush so please excuse my shaky paint job!). I have to admit it took rather a few coats (probably around four!) to bring out the lustrous sparkle and the deepness of the indigo pigment, however after four coats I absolutely love it!! The colour is as intense on my nails as it is in the pot. After a complete success with their nail polish I defiantly want to try out some more of the 'Accessorize' line.
:) x