Personalised Makeup
TORI
So this weekend, I was lucky enough to be able to practice some of the tips & tricks i'd learnt about makeup over time on my lovely friend Tori who was more than happy to let me show her some of the tricks of the trade I had picked up. She wanted to go for a 'brown smokey look' (which is my favorite look anyway) so that's what we decided to do. Tori has a very pale complexion, light eyes and red hair. So her brown smokey look wasn't applied how I'd do it on myself but more tailored to what's suitable for her skin-tone and colouring. I would also like to add, that I am in no way a trained make up artist but I always tend to be the one roped into doing my friends' make up when we go out on a night out or when they are going out on a special occasion, they say I do a good job so hey ho!
It was lovely evening, Tori and I had a bottle of 'Blossom Hill' wine, whacked some Girls Aloud on the ipod and just chatted make up! :-)....I've decided to write this Blogpost primarily to show Tori how to recreate the look I applied to her face beginning to end, so that if she ever wants to give it a go herself then she can look at this and have a crack at it! Soooo.. Here we go Tori
Firstly
You told me you suffer from an extremely dry forehead and I could see that your skin was fairly dry in places anyway, So before staring on your foundation I applied 'Simple' - 'Kind to skin, hydrating light moisturiser'
To hydrate and refresh your skin, and to also work as a base prior to the foundation, I applied this with a flat brush (similar to the one you have!) I also added some Vaseline to your lips to smooth any cracks you had in your lips due to the cold weather!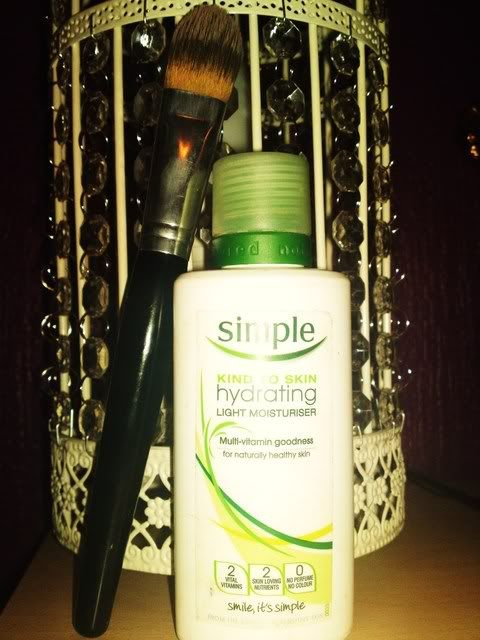 Once your skin was hydrated with the moisturiser. I applied your own foundation that you liked to wear on a daily basis, with a MAC 130 Stippling brush, perfect for giving an 'airbrush finish' One recommendation I have is If ever you run out of your current foundation or your looking for another drugstore brand to try I recommend 'Revlon Colourstay' which specialises in normal to dry skin. I used this foundation for years and I still stock up on it every now and again now because it's a good one to rely on. :)
After the foundation was applied, I set it with your own 'natural collection face powder' using a large, fluffy kabuki brush. Not powdering too much as your skin still looked abit dry on the forehead and I didn't want to extenuate the flakiness. So I dabbed some all over the face, but sparsely on the forehead.
Next, onto the face
I brushed out your eyebrows using an eyebrow brush and lightly filled them in with a medium brown colour using an angled brush like this one,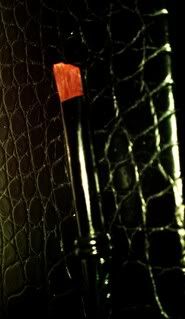 although at first you thought it was abit dark and dramatic so I lightened them up using a dab of concealer on the end of a small brush and dabbing it over the brows to lighten them up. You did say you preferred them after and liked the 'neatness of them' . I achieved this by taking an angled brush like the one showed below and just followed your natural shape, squaring them off at the start of the brow.
I then used a bronzer on your cheeks, to express the sun kissed cheek we wanted.
To do this I used a fluffy blush brush again and 'Max Factor' Bronzing powder in 'Golden'.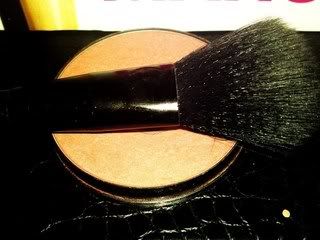 This was followed by some blusher, applied using a Kabuki brush. We used MAC's 'Fleur Power' powder blush on the apples of your cheeks.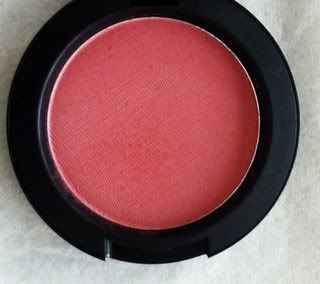 Finally, I used the bottom right cream highlight from my 'Chilli Pepper' eyes and cheeks palette to add abit of glow to the tops of your cheeks.
Onto the eyes....
If you know me, you'll know I absolutely LOVE doing eye makeup, I love layering and blending all kinds of colours and as I said before I love a smokey look, so heres how we created yours! I'm going to recreate it on my eye so you can follow it visually for future reference.
Firstly we applied a cream white base to the eye and then a medium golden brown all over the lid using a flat eye shadow brush. This colour was just out of a large cheapy palette I picked up from Bodycare, that's still in shops.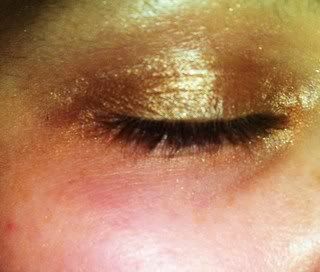 Then, using a darker more chestnut brown from my 'Too faced palette' using a flatter, more tapered eye shadow blender brush, I applied this to the outer corner of your eye and blended it upwards.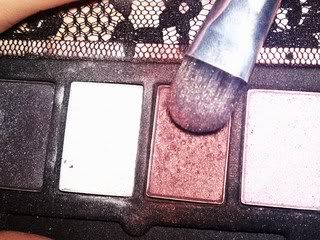 Then, I took 'Bracken' - a dark brown eye shadow from my 'Front cover palette' and blended that through your crease and socket line.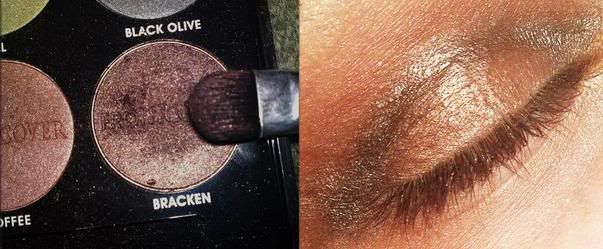 Because we lost some of the warmer more coppery browns I added a stripe of a golden, coppery, sparkley brown from the same Bodycare palette across the centre of the eyelid, where the pupil would be :) This brought the brown warmth back through.
I also applied a nude, white/very pale pink, to the corners of your eyes to give you a wide awake look. :)
I then lined the top of your lashline and half of your lower lash line with NYR 37% organic black. eyeliner. Finally, I curled your lashes and added 'MAC'S zoom lash black mascara, for a dramatic effect!
Lips
You said the first lipgloss I used you felt was a bit too brown, so we quickly swapped it to a more ravishing pink ;)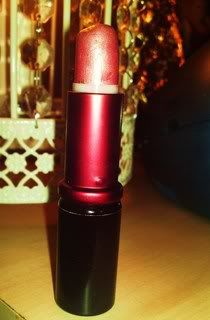 The colour we used was Rimmels rich moisture lipstick in the colour '284, latino' and it you were right, it defiantly was the better choice!
Overall, the look was cute, girly and dramatic, (if thats possible haha) I loved working on your Tori, and I hope you enjoyed the look, after a few tweaks here and there.
:)