Ever since I was a toddler I've had a pure love for collecting and wearing jewelry . I'd visit my Nana on week days between the ages of 2 and 4 and i'd have a crazy fascination with her vast collection of jewelry.
She had a whole chest of draws full to the brim with magical, colored beads, sparkly rings, unique brooches and an array of obscure bracelets and earrings.
I was in heaven. I'd try them all on, layering them up, wrapping them around my neck, arms and legs. I LOVED my Nanas jewelry draw and I think it is those memories that are the stem of my love for jewelry now. I'm not one to fuss how crazy, how brightly colored, how fake, how expensive, how cheap or how random my pieces are. I just LOVE wearing them. I have quite a vast collection of both expensive and cheap (And when I say cheap I mean Primark £1.50 rings!) jewelry, but i'm going to show you my costume jewelry - the stuff I wear everyday because I looove it! My crazy sentimental things I hide away for special occasions, as they were a pretty penny. But this lot, is what I reach out for in the morning to add abit of extra to my outfit.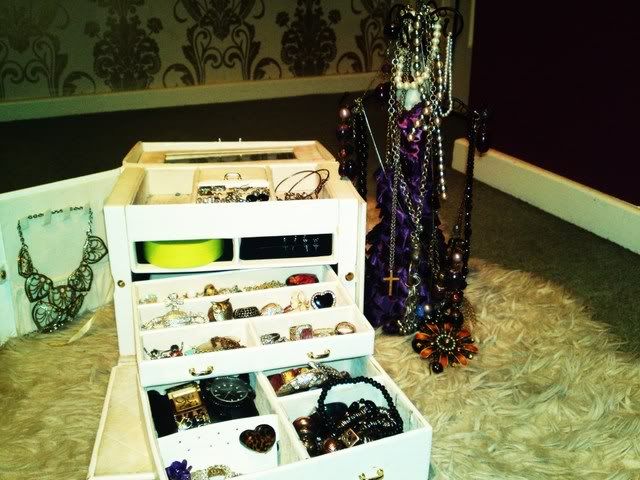 First up, Rings! My
favorite
piece of jewelry.
Admittedly, non of these rings are real gold or contain a real smacker of a jewel but for costume use they are ace! ( Even if I do have to put up with a bit of green finger)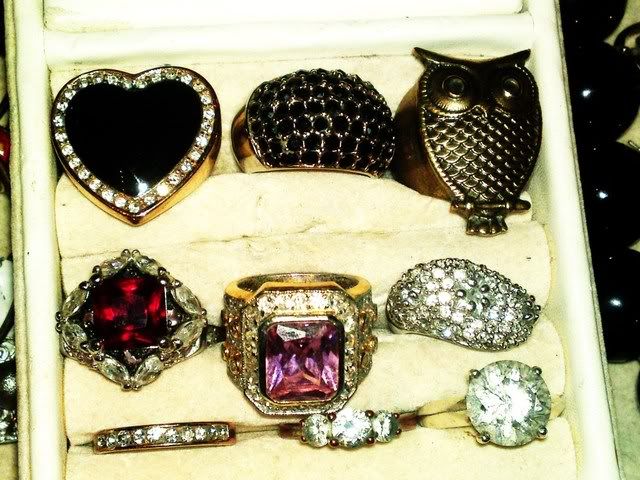 1.Love heart shaped ring in the top left corner is from Primark and my friend Adam bought me it. I wear this one probably the most as it goes with almost any outfit. The joke of it is, is he can't remember ever buying me it!
2. Black and gold cluster ring on the top line is from Topshop and I got it for about £6. Being the idiot that I am, I didn't read the tag it was hanging from and ended up with an XL!...FOOOOOOL. So I can't really wear it without stacking a thin banded ring over te top of it to stop it slipping off.
3. Twit twoo! This owl ring I found hidden on a shelf in a shop called 'Internationale' it was reduced from £5 down to 20p....Now I couldn't say no to that could I? Again it's mahoosive on my skinny binny fingers but as before I use my trick. The staced effect of rings actually looks pretty cool too.
4. Both the 'Ruby' and the 'Garnet' cocktail rings used to be my absolute favorite rings ever, I NEVER took them off, shamefully I don't tend to wear them much anymore. :( They were from an antique store in Rhode Island in the US. I felt like a princess everytime I put them on. The pink one I used to say I wished was how my engagement ring would look like in the future haha!
5. This 'diamond' cluster ring I got the most recently from Manchester airport's duty free. I was flying out to Zakynthos and me and my mum spotted the stand and just HAD to pick one for out holidays. It sits so lovely on my finger, it's so cute. I wear this one quite frequently too.
6. The last trio of 'diamond' rings. Are an assortment from various places, the first is from Accessorize which came in a set, the second from Harrods, well the Harrods gift shop! I wanted it because it came in a harrods box and I wanted to trick my mum it cost a million, actually it was £15! And is a real culprit for turning my finger green!!!! Thirdly, the large single 'diamond' ring was a present from my Grandad, he said he wanted me to have some costume bling and bought me that for my birthday ages ago. It sparkles so beautifully.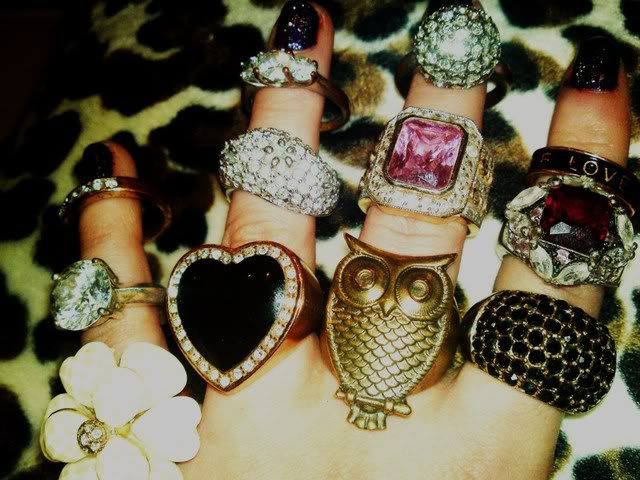 Onto bracelets I must have a million of those bracelets from primark that everybody has so i won't bore you with those that you'll have already seen (your probably wearing some of them ;) ) I'll just show you the ones I wear frequently or have sentimental value....
These are the three I wear stacked up EVERYDAY.
The first one is so obsure I love it! My friend Charlotte brought me it back from Spain years ago. The second is a 'Links Of London' bracelet, the brass and lead colouring of this is right up my street! I actually paid a fiver for this from a boutique that was closing down next door to my work. It would have been sooo much more expensive but for a fiver on the closing down sale I couldn't resist! I love the little charms on it to (they came with it) Unfortunately the wellington boot snapped off and I think my ex boyfriend still has it :S the last time I saw it, it was in his wallet :| :( Pity it has a 'J' on it too! ouch!!!! MOVING ON....The third bracelet was a christmas present I got recently from my friend Adam, I think he remembers buying me this one. Haha, it's from Freedom at Topshop.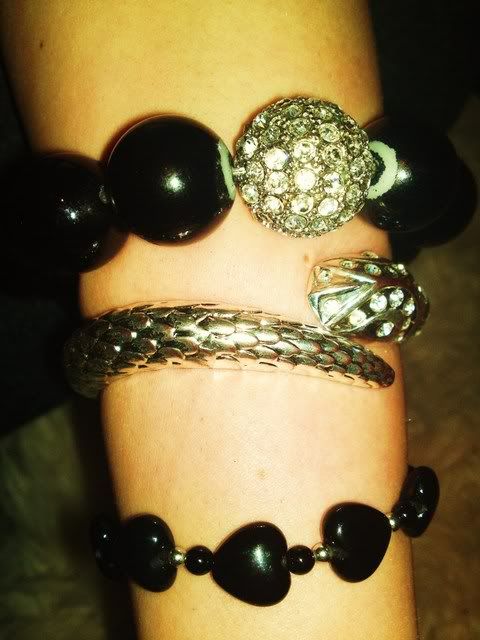 These three I tend to wear on a nighttime rather than in the day. The first is soooo heavy with the cluster ball! It's from a boutique in Zakynthos town, I actually bought it to match the ring I bought from duty free. It annoys me though because it's sooo heavy and is only held together via some flimsy elastic! Blumming eck I'm always scared it'll snap!!!! The second one is a snake that clasps around your arm. I love snakes symbolised on jewelrey, my Grandparents brought me this back from Torquay and I wear it loads. Finally, the little black bracelet of hearts came with a necklace and earrings that'll youll probably see in the pictures to follow. It was a present from my Nana for passing my GCSE exams. It's gorgeous I have so many memories attached to it!
Finally......My BABY!!! My 'Chamilla Bracelet'. My pride possession.
This was a present from my Nana & Grandpa for my seventeenth birthday and given how poorly they both are i'm sooo grateful for this STUNNING charm bracelet. I intend this to be my family heirloom hahaah! It cost a small fortune and I rarely wear it but I can never stop looking at it. It's made up of charms that are all my favourite colours and it's my absolutely favorite piece of jewelry EVER!
Onto necklace Pendants. I store all my beads on my little dress jewelry holder that you can see in the first picture but i'm always losing chains so I store all my pendants together. These are just a few of them that I like to wear, again each has a sentimental value to me.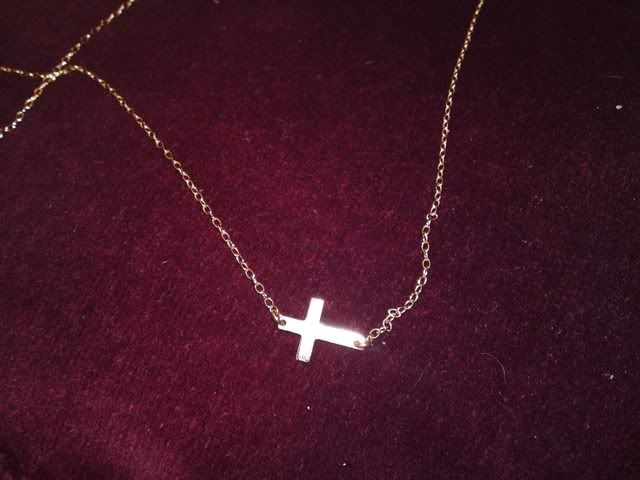 The infamous
sideways cross
Yes, I conformed! As seen on big Youtube Guru's such as Laura from 'Lollipop26' and Sara 'Swalkermakeup' everyone wanted to know where the sideways cross was from! It's funny actually because I bought it when i first saw Lollipop26's and then I never dared wear it when I went to Sara's house to see my (was then boyfriend) because I thought she'd think i was copying her hahhaa Eeek! I love Sara though and her youtube channel everyone should go and subscribe to her even though you already will have done! I love it, my friend Elle has one too! We're both Lollipop26 fans!!! It's gorgeous, mine is a teeny tiny one and it's great for wearing as a delicate necklace layered with long beads and other necklaces!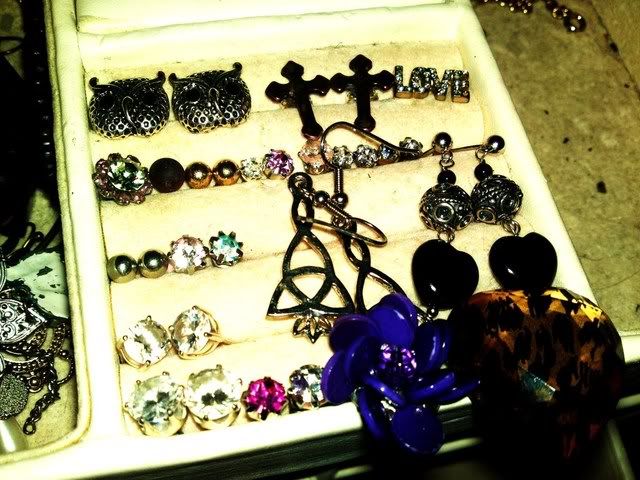 Rather than dingly dangley earrings which I do like for going out, most days I wear studs, most of these are cheapys from primark and most don't have a partner! Grrrs!! I have my ears pierced six times and sometimes I like to wear them odd anyway! My favorites are the owls and the crosses. :)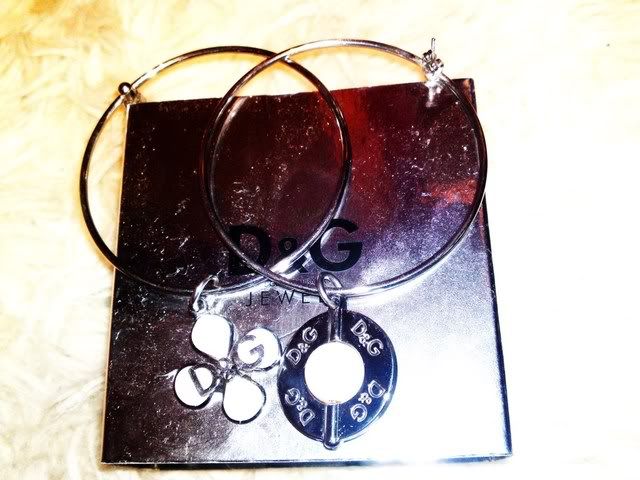 For the Christmas just gone, my parents bought me these D and G hoops that are GORGEOUS, I love these but they are soooo heavy! I don't understand why they don't actually match either. Even though i'd never pick these out for myself i'm soooo glad I have them, they glam up a little black dress up no problem!!!!!
As one for being late ALWAYS! I have two watches. One is made by Guess that I wear more for going out and of-course it's leopard print! I love it so much It has gold links to fasten it and a beautiful gold dial, my mum and dad bought me this for my sixteenth birthday!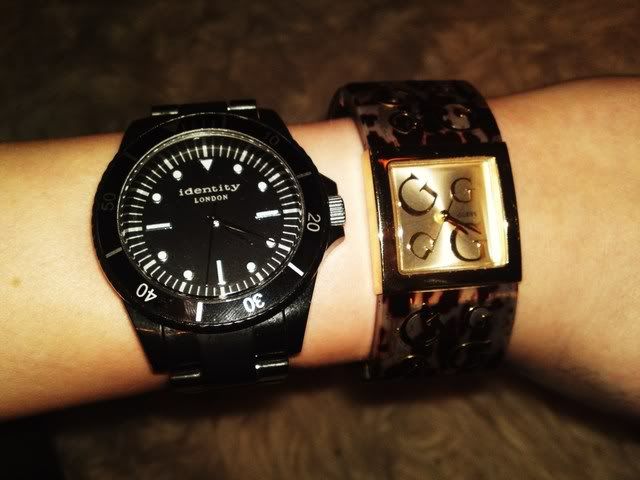 The second is a complete TEN POUNDS bargain from Argos. It's my 'manly watch' I had a similar one from Sekonda that's strap broke and I had no pennies to replace it and seeing as though 'Toy watches' are sooo popular these days!! I thought ahhh it's a tenner why not! I wear this pretty much every day it's cheap, manly and tells me the time! ;)
And that just about covers it for my costume 'daily' jewelry, if your already fed up of reading i'll sign off with some pictures of my collection :) x