I count myself extremely lucky when it comes to the old 'tooshey pegs'. I have never had to endure months and even years of braces. (Alot of my friends had to and I sympathized with them 100% whenever they had to have them tightened it looked sooo painful!)
But for me the only problem I had was the fact my bottom two teeth were facing each other! Luckily when I reached about 8 years old, that all sorted it's self out! Luckily, I have no fillings *touch wood* and never seem to have a problem with my teeth, i'm sooo lucky they're really straight and in good nick.
Now, as an avid TEA DRINKER!!!! (probably about 11 cups a day eek!) My teeth are even more susceptible to staining, and that's exactly what over the years has happened, leaving my teeth with a gammy browny yellow tinge YUCK!!!!!
Sooooo I toyed with the idea of professional whitening. My mum had it done a couple of years ago and they looked great! But she did tell me that they won't do it on sensitive teeth and the sensation the procedure gives you feels like nettles stinging your gums! Eeek! I didn't fancy that at all, or the £250 each jaw price tag!!! No, there HAD to be another way.
Over the passed year I have tried the 'Crest white strips' on recommendation and absolutley loved how white they made my teeth in no time at all! However, I could only order them from the United States which was really annoying and the effect didn't last particularly long. I wanted something more permanent if that was possible, that removed the daily stains!
The answer I needed was to find a toothpaste or toothpolish that removed stains, was affordable and the effects lasted quite a long time. And that my fellow bloggies I found in this gem! ALL HAIL.... THERAMED 'express white' toothpaste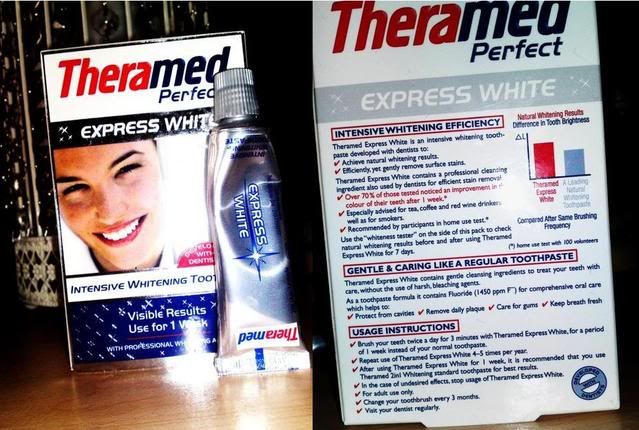 At only a couple of pounds from a shop called 'Bodycare' this product is a steal! And it REALLY works. I picked it up thinking that it would be a waste of time completely as no other 'toothpolish' tended to work for me....But we'll get to that later! I replaced my normal Colgate with this product. It instructs you to use it for one week and the results will be noticeable by day 7.
It included this 'whitening shade guide'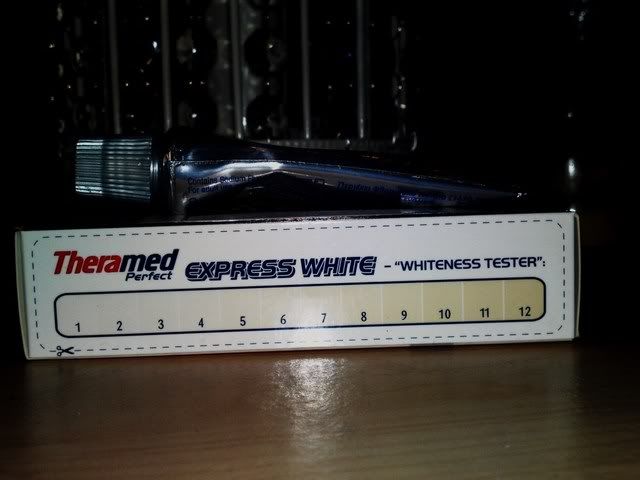 which I think isn't that practical as the non of the shades matched my teeth before or afterwards. The difference of colour before and after is however noticeable to yourself so use your own eyes as a guide! :)
I have been using this product for exactly a week and I certainly see the stains disappearing on my teeth and they are now gleaming a lovely pearl shade! I tried to take a photograph to show you, but the flash on my camera made it impossible to get a true representation. :( - You'll just have to take my word for it hehe!
Before I ventured to this wonder of a product I had been using this 'toothpolish' from 'Pearl Drops' (which I was worried was for false teeth only hahaha!)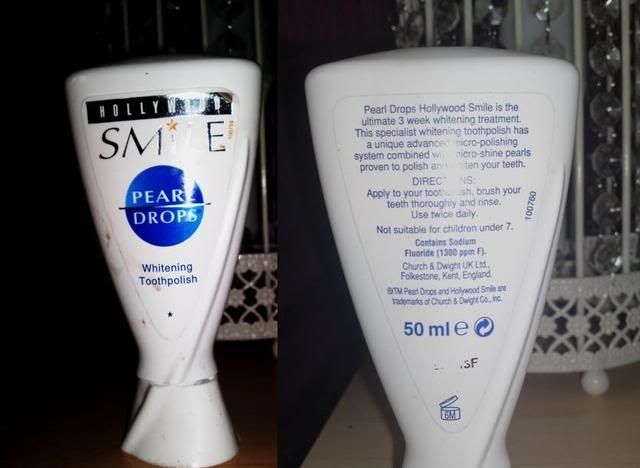 This product held similar promises but didn't work AS effectively. I also got a bit worried as i'd pushed aside my regular 'plaque fighting' toothpaste for this and I was worried I wouldn't have any cavity protection as I was only polishing my teeth not fighting the bacteria! Sooo I stopped using it until I found the 'Theramed'
HOWEVER, all is not lost. BECAUSE, using them together is blumming fabulous!!!!
The whitening is drastic, I no longer have stained gammy teeth, they are white and fantastic! All because I use double the white boosting products! I usually brush my teeth with these two products on a morning as I haven't eaten whilst i've been asleep, thereby less plaque problems! And then use my proper Colgate toothpaste on a night. I have found this really works effectivley, I wish I could show you the difference! It's fantastic.
I strongly recommend the 'Theramed' for a quick 7 day speedy whiten! And for the long run, using both of the products mentioned together!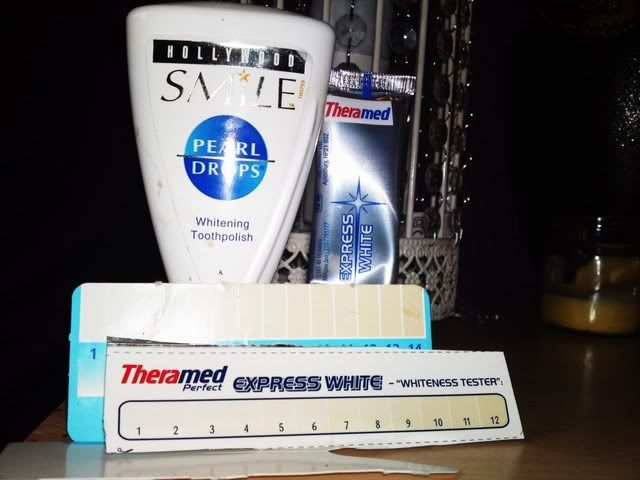 I'm really into finding new and exciting tooth whitening products, so if you know of any I should try feel free to leave me a comment letting me know! I hope you enjoyed this post and I strongly recommend you try this for some sparkling pearly whites!!! :-)
Love,
Hollie x