Weekly
Favourites
Hi Everyone. :)
....I have been feeling a little blog muddled at present. I have been a little unsure as to what exactly I was doing with my blog since I started my YouTube channel. It's quite silly really because my blog was my first born. [Sorry Blog :(] Thereby I have set a clear focus on what I want my YouTube channel to be about and what I want my blog to be about!
....
Sooo here is a new weekly feature to my blog!
"Hollies Weekly Favorites!"
Each week I am going to choose some things whether they be beauty products, clothes & shoes, hair products, books or songs etc etc that I love and have been using over the previous week.
(The same as monthly favorites of course, but my monthly favorites are going to be featured on my YouTube channel only and my weekly faves on here)
Yay! :-)
So without further ado here is my little selection this week! :-)
1. Rounded brown over the shoulder satchel ..
As it was the first of two Bank Holidays I was obviously off college and had my Monday free to myself. Although I should have been revising hard for my May/June exams (eek!) my Grandparents wanted to take me out somewhere to spend some time with me. We ended up in a little town called 'Otley' in Leeds. The sunshine was out and we had a lovely time having coffee and toasties in the market square and wandering through the park. There are a few shops there that were open and I popped into one called "The Factory Store" which sold sooo much stuff SO CHEAP! I had been in need of another little bag to use daily when my Marc B needed a rest haha! And I found this cute little brown one in there for £12.00. So I bought it. :-) It sits nicely over my shoulder and I like the gold hardware. The zip is ridiculously tiny though so I couldn't use it for college as it hardly fits anything in! But as a day time shopper it's perfect. I haven't stopped using it this week. :-)
2. Ciate Paint Pots - Nail Varnish - Colour: Mistress 039
Last weekend, I was scratting through my nail polish collection desperately trying to find one that would take my fancy. I was struggling as a I waded through the pinks and purples. I wanted a red! a REAL red. Low and behold out of the four reds I have this one leapt our of the box and onto my nails! I couldn't tell you how much it was as I got it free in Marie Claire some time ago however I had never used it before I loved the Raw tomato red colour. Although I don't love the fact it barley covers and takes about 8937834 layers to get a block coverage on my nails I have loved wearing it. I applied to my toes too and looks lovely aside my black gladiator sandels.
3.
Whilst I was out and about I 'remembered' that I hadn't read a book since my holiday last summer in Zakynthos where I read five books in fourteen days! I absolutely love reading but haven't found much time to finish another book lately. So I called into a local charity shop to scout their book stash. And low and behold I departed five books heavier. :-) I have started them all and i'm currently loving them all!
I picked up:
Lindsey Kelk: I heart Hollywood. I heart New York. I heart Paris.
Chrissie Manby: Getting over Mr Right.
Olivia Goldsmith: Uptown girl.
As I have harped on about millions of times I love romantic, sassy, glamourous novels so these were perfect for me! I am loving getting back into reading again and setting time aside to read. I shall let you know what I think of them all when I've finished. Perhaps I could do a little book review :-)
4. Gold chain & Elephant necklace.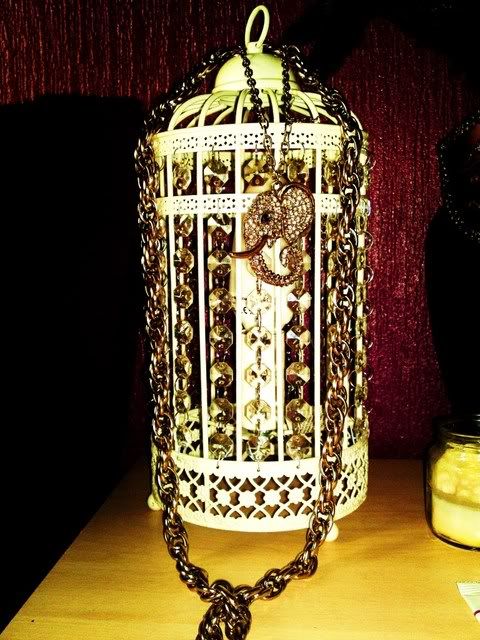 I popped into Primark to have a peek at their new spring jewelry collections, and although most of it are last years repeats. I found two pieces I especially liked. Firstly, the long gold chain was £3.50 and sits just above my tummy button I wanted a sturdy long chain after seeing one around Anne Hathaways neck in my favourite film 'The Devil Wears Prada'...you can see it here in this picture.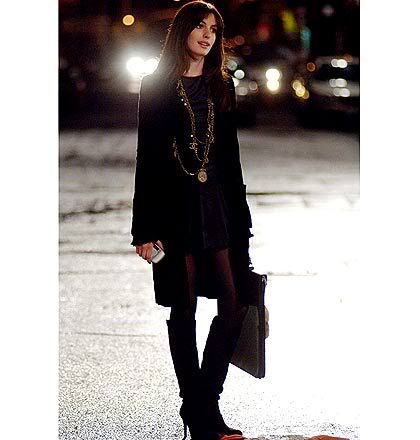 Although mine clearly isn't Chanel haha! And then if you have watched my YouTube Channel you will have had a giggle at my elephant pendant necklace story in this video:
whereby i thought it was a snake hahaha! But this too is a long necklace on a gold chain covered in gems it's gorgeous!
5.Bodycare lipsticks - Mango Mood & Hot Pink
I know I talked about 'Hot Pink' in my previous post but I absolutely adore both these colours and have been avidly switching between the two this week. I know they are quite daring and not to everybody's taste but I LOVE LOVE LOVE them because they are bright, fun and spring like! I've had so many complements when i've been wearing them! They make me feel sooo bold and summery! And for 99p, okay they may not last all day but for that price you can't complain. :-)
6. Gold ornate frame and figure jewelry holder
A bit of a strange choice to add to my 'weekly favourites' but regardless I absolutely love my little window display now. This frame was £5.00 in the Paperchase sale. I think it's so cute and shabby chic. The jewelry holder I got from a garden centre because it matched the colour of my room and by eck it's full now! It keeps falling over and my necklaces are sprawled absolutely everywhere. I like them paired together I think it makes my window look more 'homey' haha!
And that's it for this week! I hope you have enjoyed this little feature that I shall be updating weekly from now on! I hope you are all well and i'll be back soon! Don't forget to follow my Twitter to find out when I will next be posting!
Lots of Love
Hollie xxxx