Weekly
Hey Everybody! Hope you are all well! It's that time again for weekly favorites!!!
I have been trying various new products this week after a little makeup splurge in Leeds and these are my favourites!
Cliniques Dramatically Different moisturising lotion. After having some issues with my Panoxyl gel seriously drying my skin out and making it really itchy :( I decided that i'd had enough of being 'flaky face' and needed to seriously pump some moisture back into my face! All hail Clinique! I love this moisturiser! Obviously it doesn't appear yellow on your face and it soaks in SO QUICKLY! I got this little one free with Glamour magazine and it's so handy to pop into your makeup or travel bags when your on the go. It has been a God send for me recently!
Onto concealer now, again by Clinique this is the airbrush concealer and illuminator. My mum gave me this as she wanted to Touche Cla instead to try. At first I thought it would be a little bit too orange for me but after applying it under my eyes to illuminate the blue tones I have I immediately loved it. It's a brush applicator and applies like velvet to the skin. The peach tone is perfect for the summer too.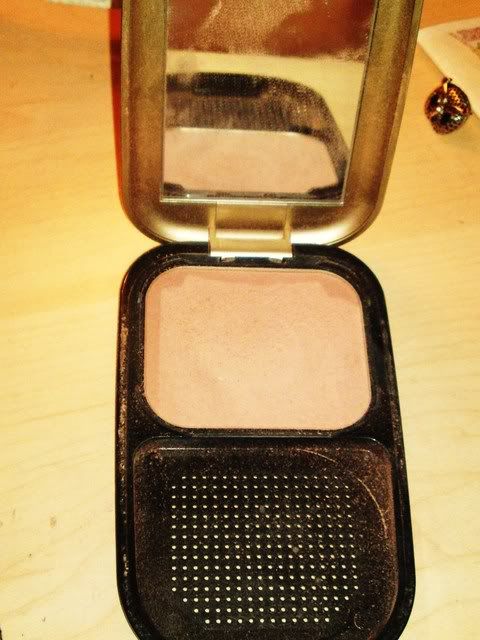 MaxFactor 'face infinity compact powder foundation' A strange purchase for me as I really don't like the concept of a powder foundation but for re touching my studio fix fluid after a long day at college and for contouring I think it's bladdy lovely! It's a warm tone which again is perfect for the summer.
THREE NAIL VARNISHES! I hear you say! I was at my friends house and she has such a vast collection of Barry M nail varnishes and I couldn't for the life of me choose two (one for fingernails and one for toenails) yet alone one! So I picked three and alternated each nail with each colour. Luckily they are all from same taupe/purpley family so they all sat nicely alongside one another. I own various nail varnishes from both Revlon and Barry M and (with a clear topcoat of course) last absolutley ageeeeees! I have worn these literally all week since I scrubbed off my 'snot green' ;). I never thought wearing three colours would look so quirky!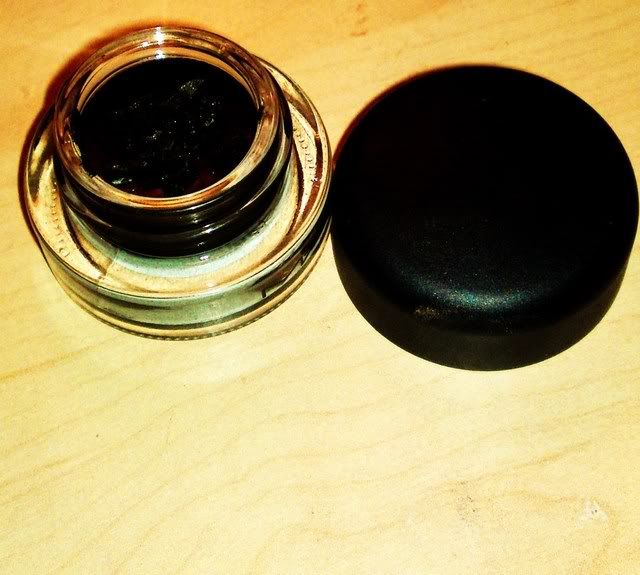 MAC's gel eyeliner in 'Blitz & Glitz'. I have had this product sat in my makeup collection for some time now and up until recently has never been opened! I guess it was because I had no idea how to apply a gel eyeliner! After watching a few YouTubers demonstrating I decided to be brave and give it a whirl and I no longer rely on my L'Oreal liquid liner INFACT I have been fully converted! I'm no longer a liquid liner girl GEL ALL THE WAY!!!
Avon 'Supershock eyeliner'. A lady I work with always bring the Avon catalogue in for us all and although I have never purchased anything from it before I was flicking through it one day on my dinner break and saw that the supershock eyeliner was on sale from £6.00 to £3.00! After watching countless gurus rave about it I thought for the price it was well worth a shot! Some girls had described it as making your eyes literally "pop out" and "the blackest of black" and this eyeliner did not disappoint, I have been wearing it everyday and I absolutley love it in comparason to my old favourite Urban decay 24-7 liner in Zero!
Sooo that is my weekly favourites for this week! I hope you enjoyed them! I love finding new products that I love and most of these will be making a permanent appearance in my daily makeup bag!
Love Holl xx