ALL HAIL MY NEW FAVOURITE(IST) EVER NAIL POLISH.
- OPI 'My Private Jet'
I first came across this little beauty when I downloaded the OPI app for my ipod touch. :)
It's so cool finding new nail varnish colours and the OPI names for the various colours are so cute!
I was flicking through the collections, looking at all the beautiful shades and the ticker landed on 'My Private Jet' and it was literally, love at first sight. I knew I just HAD to order this polish! I love dark nail polish shades I think they look gorgeous with a tan and with the added sparkles this just was a winner all round.
THEN.....
I was relaxing one evening, cup of tea in hand, watching "Keeping Up With The Kardashians" (you ladies know how much I LOVE Kim Kardashian") and Kim actually asked for 'My Private Jet' in a nail salon on the show. Therefore 'My Private Jet' soon became a need for me!
Move aside Barry M 'Raspberry' I have a new lover!
Just my luck as usual, I couldn't track it down anywhere! :(
But as you will already know if you follow me on twitter (@gollymshollie) my aunt is here visiting from America.
I knew if anybody could find me it, she could! So I asked her if she would bring me some over with her.
Unfortunately, it had sold out in the salons near her aswell!
NIGHTMARE!
However, the nice lady at her local salon was going to the wholesalers and managed to find some for my aunt to bring back to England with her. She arrived on Sunday and it's really great spending time with her as I don't get chance to see her often.
When she handed me the little glass bottle I was sooo excited!
Heres what it looks like on my nails.
Although it looks bronzey in the bottle, it actually applies as a mottled gunmetal grey. Beaaaaaaaaautiful!
It reminds me of a night sky!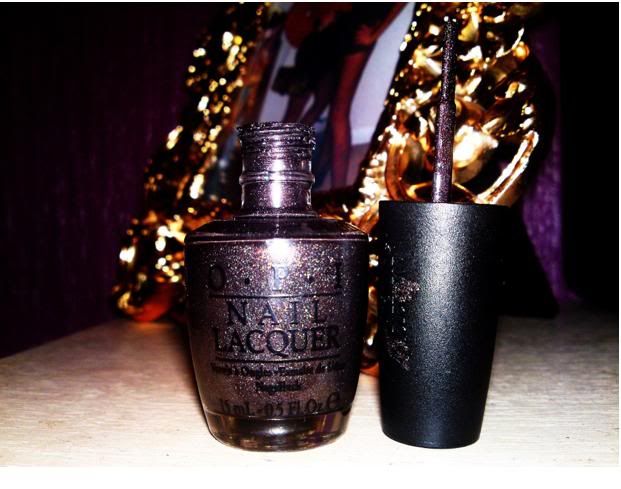 It's just my perfect colour, I know it's not a very summery shade but it looks fab with a tan fake or real and looks so cute on my toes with my black gladiator sandals.
A definite 'glam rock' look!
I hope you are all well and a HUGE hello to my new blog followers!
I am back to college now but I will be blogging just as regularly. Thank you so much for your continued support
Love, Hollie
xx