Glitter all over the room.
Pink flamingos in the pool.
Hi Everybody! Yet another week has flown by me. It really feels like I haven't been to college in years! 4 weeks to be precise but still.... It'll feel strange going back on Monday to start A2. Really not feeling the 9-4 slog, nevermind all the travelling. Yuck!
Anyhoooo....
Whilst scrolling down my blog all I could see were 'Weekly Favourites' titles! I thought blummin' eck people are going to think that's all I ever do! So in an attempt to try and make things look a little more interesting I have decided to title these posts with a line from my 'weekly favourite' song. I'm sure you can already guess this weeks top player. ;)
-Schwarzkopf Live 'Salon Style'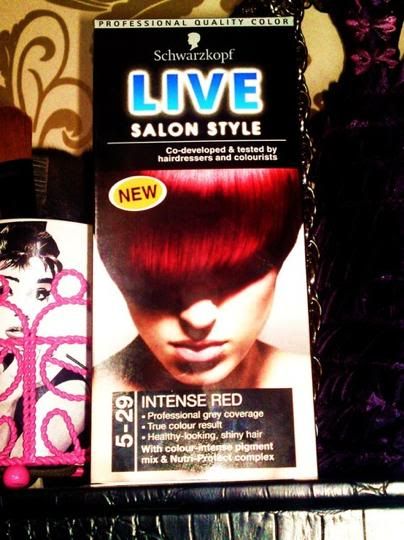 So, as you all know I absolutely LOVE colouring my hair red. Dark red, bright red, plummy red, orange red blah blah I really enjoy sporting red hair. I like how it complements my blue/green/grey eyes and warms my face tan or no tan.
Although I have had my hair every colour under the sun in the past I always resort back to a deep cherry red. I use any red hair dye from cheap ones at Home Bargains to expensive colourings at the salon. Usually I do it myself though as it's cheap, super quick and looks just as good afterwards.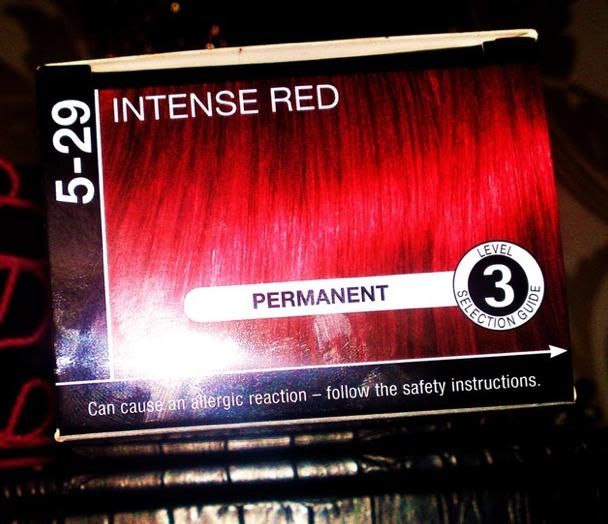 However, I have always wondered why the salons don't actually sell the salon colour mixes so that you can use the professional quality at home?
After stumbling around Superdrug looking for another box of colourant earlier this week I saw that this new one from Schwarzkopf was on offer and came loaded with Superdrug points! *yay!* It claims to be developed by professional colourists and hairdressers providing a salon quality colour. Sounds promising...
The colour I chose is called 'intense red' and it is very similar to another Live XXL colour 'cool scarlet' I wanted to see if this 'professional' quality dye worked any differently to the Live XXl.
The Verdict.
Apart from a fancier box it didn't look any different than if I had plonked XXl on my barnet. Though realistically, I wasn't expecting it to at all. It still refreshed my faded red (I am going to try and religiously colour my hair every 4 weeks to prevent a fade to that mingey orangey pinky red.) and provided me with a brilliant red shade. So I can't complain. :) I posted a picture on my twitter showing how crazy red my hair is now I don't know if you saw that.
-Babyliss 'Glamour Waves'
Although I had heard great reviews about this tool through girls on YouTube such as 'Fleurdeforce' and 'Gemsmaquillage' I never set out to ever actually buy it. Regardless of the fact I needed a curling tong (big waves and curls seem to be the hair right now don't they?) I just figured the barrel was too large and well meh. I could let this 'must have' pass.
Anyway...
My aunt is flying in next week from America and she asked my Grandma to pick her up a curling tong as the plugs are different here than in America so she couldn't bring her own. My Grandma got a little confused with the measurements and ended up purchasing the 'Glamour Waves' tong. Now, my aunt has a short, crop hairstyle so this was in no way to right tool for her to use. However, my Grandma had already opened the polethene bag it was held in, which meant she couldn't refund her money as this bag (although it was never used) is classed as the hygiene seal. I think it's really lame as the intense heat would kill any bacteria anyway. So my Grandma was stuck with this wrong tong and had to buy the smaller one that Babyliss make.
I figured that to make life easier for everybody I would just buy the tong off my Grandma because she's a pensioner (awwh) and I didn't want her to lose out. So now it is mine. And I have been using it this week and loved how voluminous and wavy it has made my hair, I felt very glamourous with bouncing waves and great volume and movement in my hair.
Jobs a good 'en.
- L&B nail polish in 'French Pink'
After seeing K-Mid sporting a pale pink nail on her wedding day (I do believe she wore a mixture of Essie's 'Allure' and Bourjois' 'Rose Lounge') I wanted to catch on to 'sophisticated' nails.
My all time favourite pale pink varnish is Barry M 'Peach Melba'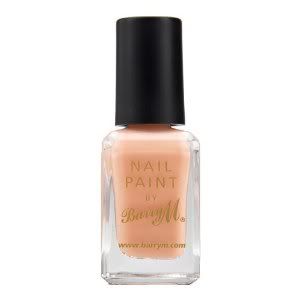 (Image taken from Google)
Yet once again when it came to rooting through my nail varnish collection it was being shy and I couldn't for the life of me find it! *MAJOR GRR*
So I scouted a cheapy L&B polish that was similar-ish and wapped that on instead. It did the job and I am now enjoying nails fit for a princess.
-Glamour magazine and their July issue Benefit giveway
Woo! I am SO pleased. My favourite magazine is, was and always will be Glamour. My dream job is to knock Jo Elvin off her editors desk and plonk my size 12 ass on her seat of power. So as you can imagine I was over joyed to see the benefit giveway. I was scratting around in WH Smiths looking for 'High beam' as I don't have a cream highlight and have always wanted to try it. As usual they didn't have the issue with 'High beam' inside so I trawled around the shops trying to locate it (does this remind anyone of my 'Instyle & Nails Inc' trauma a few weeks ago?) Eventually, I found it and I have been wearing the 'High beam' all week and loving the highlight it gives to my brow arch and cheeks. I usually collect all the products that are being given away but I'm just not too bothered about the rougey and ruddy 'Benetint' and 'PosieTint'.
I loved the Adele feature aswell, I associate Adele with breaking up with my ex boyfriend because the night we finished it was the Brit awards where Adele sang 'Someone Like You' and I remember thinking, bloody hell this is all I need! I think she's inspirational though and comes across really down to earth and merely an extremely talented musician who hasn't lost herself through celebrity fame and fortune! You go Adele!
If you follow me on Twitter (@gollymshollie) you will know that I have been into college this week with the crew of our magazine 'Working Title' . We have been working on the September issue and I thought i'd give you a sneaky peek of my page which is, you guessed it is a complete beauty junkies haven.
I worked really hard on designing all the layout myself using InDesign (such a bugger to get my head around) but I'm really proud of myself for creating this as the finished outcome! What do you guys think?
- My favourite song this week has been Katy Perry's 'Last Friday Night' (T.G.I.F) I have literally had it n repeat on my IPod everyday this week. It reminds me of last Friday night for me personally.
This is me and my friend Kayya last Friday night.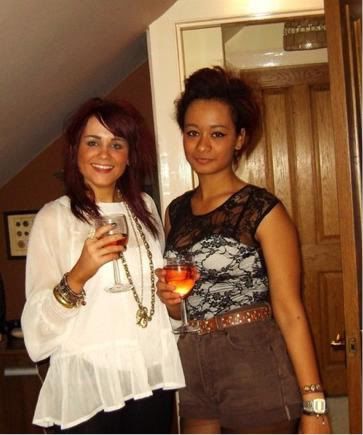 We went to an' end of A levels' party with Kayya (we weren't actually even invited!) We rocked up and although I was a little worse for wear it was a good night and great just having a good old boogie!
The video to this song is groovy! I laughed so much watching it. It's actually really inspired me to maybe film a makeup look inspired by this video! Take a peek and enjoy!
.
And that is everything for this weeks favourites. I hope you enjoyed it and are all doing and feeling well. And I will be back again with another post soon!
Love to all, Hollieeee x