- After sitting on an uncomfortable wooden seat with about as much plumpness as a un padded bra for what felt like the better part of six hours waiting to see the hand surgeon who's clinic was running two hours behind, I knew I needed some brain stimulation before I self combusted.

*Insert pic of unimpressed face HERE*

Off I trotted to the WH Smith in the hospital atrium. After being subjected to this ordeal TWICE in one week I was a regular there. I stupidly bought Glamour twice thinking I hadn't already read it *doh*. But with Cosmopolitan avec the Eylure falsies sold out I picked up another firm favorite of mine 'Marie Claire'.

I was pleasantly surprised to see not one but TWO freebies.




The magazine came with a choice of two Ciate 'Paint Pot' colours. A pale pink (I knew I already had a million nail varnishes in this shade so I could let that one pass + I knew that they take about 386723 million coats to fully cover the nail and a pale pink would have been a right mare) or a mysterious purple shade called "Wait Until Dark".




As purple is my favorite colour and I prefer wearing dark shades on my nails there was no contending. I looooved it.

AND What better way than to spend my endurance test than painting my nails a lovely new shade.

The colour itself is a metallic, dark, royale purple with flex's of gold and green. Prettyful!




The second freebie is a Dove hair conditioner (At first, it was nearly lathered all over my hands thinking it was a hand cream :S)




For a long time now, I have been moaning about how my hair is frazzled. So I figuired I would cast aside my usual Aussie conditioner and give the Dove a whirl. I can't say as it rejuvenated my hair immediately but it left it smelling lush and feeling silky smooth. Using oils and what not on your hair these days is the trendy method. This conditioner is laced with oil to help repair your hair. I liked it.

Not bad for a batch of freebies eh?

OH AND.....





I loooovee Ann Hathaway.

I loved her especially in The Devil Wears Prada.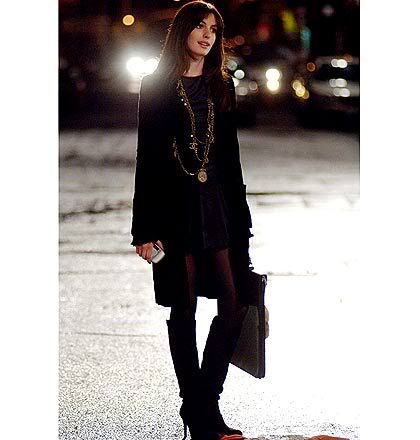 ESPECIALLY wearing the outfit above.
As the cover star this was another top seller.

Well done Marie Claire, you did well this September. (Scary seeing that word! It literally feels like a couple of weeks ago since last September, awh, I loved last autumn it was amazing.)

Holl' xo